HAPPY HALLOWEEN
Is your pumpkin ready? Click here for some ideas! https://www.youtube.com/watch?v=RUVNHh2hkGU
CHRISTMAS FESTIVAL PLANS  
Big plans are under way for Christmas in Arklow and the local Christmas Festival Committee has been hard at work to make the magic happen.  The 2016 festival will be bigger and better with new Christmas lights due to be erected on the Bridge and St Marys Park.  Events will run each weekend between November 26 and December 17.  Anyone who wishes to participate and support the festival can contact Linda Mc Donald at lmcdonal@wicklowcoco.ie.  Below is letter from the Festival Committee on events and the introduction of the Golden Ticket draw.

 PARANOIA Halloween Event
This year Glenart Outdoors are proud to bring you their brand new Halloween event "Paranoia" That will scare you like never before and promises to test all your boundaries of bravery.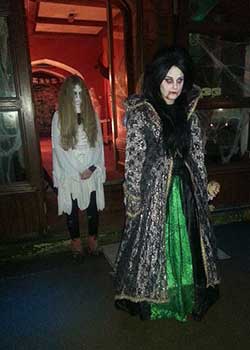 Built from the ground up to be a unique experience unlike any other in Ireland. All events are set in a real forest at night with real actors, real buildings and real fear.
This years event promises to test all boundaries of your bravery.
Journey through your worst nightmare and enter the Halloween scares for a heart pumping adrenaline filled experience…
Walk through the scariest Halloween experience of your life, where you will come face to face with your worst nightmare, journey through endless corridors, rooms of terror and forests of darkness.
Glenart Castle Halloween Event Information
Venue:-   Glenart Castle, Vale Road, Arklow
Classification :-   Halloween Tour /  Adults Only
Family Fun Tip:- They are not running a family Event this year, just the scariest Halloween experience for the Mums and dads
Dates:-  Saturday 22nd & Wednesday 26th to Monday 31st October 2016
Times:- Starts from 7.00 pm – 11.00 pm with Tours  running every 20 mins
The whole spooky experience will last approx one hour.
Admission: –
€15.00 per person
€1.50 booking fee per transaction applies
Booking Online:- You can book on line here through our booking link directly to the Glenart Castle at Halloween ticket sales.
Arklow "Making A Difference" Video Well Received
The recently launched "Making A Difference" video which showcases Arklow's business and tourism potential was very well received by the public.  The producers were delighted to learn that it has in excess of 10,000 views in the first week.  The 4 and a half minute long video was produced with funding from Arklow Municipal District Economic Development Funding and the County Wicklow Economic Think Tank.
Pat Kennedy, Cathaoirleach of Arklow Municipal District said the video "showcases the very best that Arklow Municipal District has to offer, our infrastructure, our amenities and our people.  It shows that we are open for business.  We have all the necessary infrastructures needed to nurture economic development and incentivise job creation.  Our location is a commodity that many other districts and counties would love to possess."
Visit Wicklow County Council website to view video.
ARKLOW HERITAGE WALKS AND TRAILS
Below is a map of Arklow Heritage Walks & Trails.  These walks involve continuous walking at a moderate pace and two of them are wheelchair accessible, the Kynoch's Walk and the Town Walk.  This map is published by the Arklow Heritage/Nature Walks Development Co. Ltd in association with Arklow Municipal Council.
Kynoch's Walk (Sky Blue)
Town Walk (Pink)
Glenart Walk (Green)
Love Lane Walk (Orange)
South Beach Walk (Red)
The Monument (White)
TIDY DOWNS START WORK ON NEW GARDEN
Arklow Tidy Towns has launched a new initiative to brighten up an unused corner of the town.  A new urban garden is under way at Castle park between Arus Lorcain and the Arklow Municipal District building and follows a successful report in this year's Tidy Towns competition.  Anyone who wishes to volunteer is asked to contact Arklow Tidy Towns. (0402) 24432.
STRICTLY COME DANCING FOR WICKLOW HOSPICE
The Wicklow Hospice is hosting a three-night Stictly in the Arklow Bay.  The first night is the 5th of November, the second night is the 26th of November with the Grand final on 3rd of December.  Tickets cost €10 for each night and are available in the Arklow Bay, from any of the dancers, from the Wicklow Hospice Arklow Office 0402 91310 and from Avondale Sports Shop, Main Street, Rathdrum.
GET CRAFTY AT THE LIBRARY
Arklow Library is excited to announce the upcoming mid-term arts and crafts sessions on Thursday November 3rd.  Children aged 6-10 are invited to come along and put their creative caps on to produce crafty masterpieces at the Arklow Library building on main street.  The activities will start at 2.30pm with a second session starting at 3.30pm.  To book your place please call the library at 0402 39977 or email arklowlibrary@wicklowcoco.ie